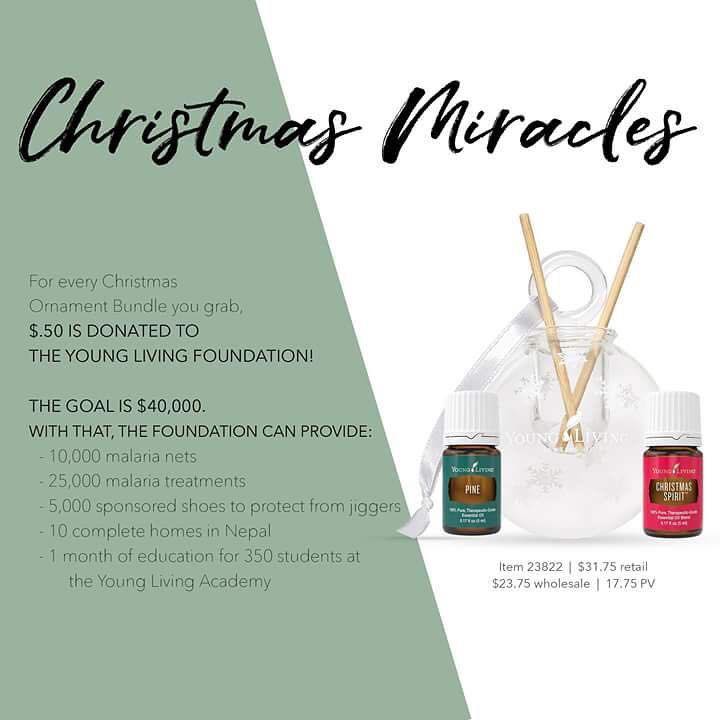 FLASH SALE!!!!
Today, Friday December 8th
This fabulous LIMITED EDITION Christmas Ornament Bundle goes live at 10 a.m. MST!!!
(9am PST | 11am CST | 12pm EST)
I promise you that this bundle WILL sell out fast!!! My alarm is set, cause I definitely want one!
Here's why you want this bundle:
– 5ml CHRISTMAS SPIRIT
It has the "happy smell" of orange + cinnamon bark + spruce to lift your spirits when you're feeling stress over the holiday season.
Possible Uses: It may be very beneficial for protecting against airborne viruses & bacteria. It may also be soothing to the respiratory system.
– 5ml PINE
Possible Uses: This oil may help dilate & open the respiratory system, particularly the bronchial tract. It may also help to calm coughs and fight fatigue. May also stimulate the adrenal glands & the circulatory system.
– Young Living glass ornament with diffuser reeds. Hang this on your artificial tree and add a few drops of pine oil.
* PRICE *
$31.75 Retail Price
$23.75 Young Living Member Price
Item number: 23822
Joyce Fisher, Young Living Silver Leader
Independent Member #1934177