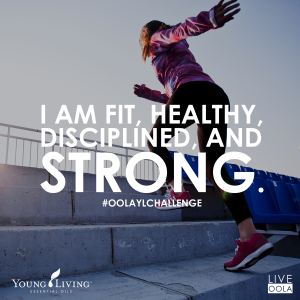 Today is the first day of the 21-Day Oola YL Challenge!!!
Challenge #1 was "Fitness"….but there's a twist to the challenge that I wasn't expecting.  I thought Oola YL was going to challenge me to do 10,000 steps today, or some other "get up and move" challenge.
Instead today's #OolaYLChallenge was to think of three things you love about your body.
Whoa, whoa, WHOA!!!!  That's a hard one!!!  It would be easier to get in 10,000 steps today!!!
I see my friends who are always hitting the gym and getting their 10,000+ steps in, and I feel embarrassed because I rarely exercise.
I listen to them talk about how they're watching their diet, see how fit, strong, and good-looking they are, and I'm embarrassed.  I love junk food.  My upper arms jiggle, I have horrible cellulite in my thighs, and my belly hasn't been flat since my baby was born 25 years ago!!!
With all the "beautiful people" photos on social media, in magazines and on television, it's easy to unfavorably compare my almost 57-year-old body to the "perfect" bodies society portrays.
Today, Oola YL challenged me to find the beauty in ME and think about the three things I love about MY body!!!
So here are three things I love about my body:
I love my neck because it is long. I think it makes me look elegant and regal, especially when I have my hair pulled up into a bun.
I love my arms.  They are slender and long, with petite wrists, and I think they look graceful.  When I was little, I used to pretend that I was a ballerina with my long regal neck and long graceful arms.
I love my legs because they are long and strong.  They carried me over miles and miles of trails through Arches National Park last spring when my daughter and I were on our cross-country road trip.  We made marvelous memories that I'll cherish forever!!!
I have to admit facing this challenge made me cry.  Seriously, I held my face in my hands and sobbed.  When I read the challenge every detail that I hate about my body flooded my brain.
I never realized how harsh I am in criticizing my physical appearance.  I would never say such ugly things to my daughters, sisters or friends!  Why do I say them to myself?!?!?  When I'm talking to them, I always point out their best features!!!
Thank you #OolaYLChallenge for helping me point out my best features to myself!!!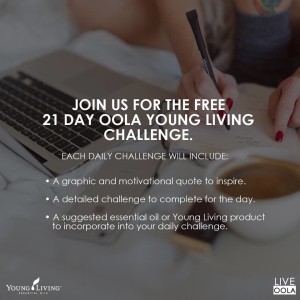 Join the Oola 21 Day Challenge in May!!!
21 days of motivating and inspiring challenges!
http://bit.ly/ylchallenge