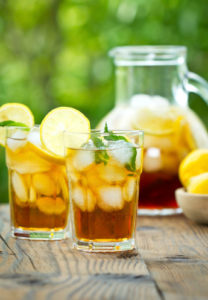 Premium Starter Kit Recipes: Peppermint Vitality Iced Tea
Peppermint Essential Oil supports healthy digestion, cools the body, promotes healthy respiratory function and is a natural energy booster.
Enjoy this delicious recipe as a great way to start incorporating Young Living's Peppermint Vitality essential oil in to your everyday life!
Peppermint Vitality Iced Tea
4 Young Living Slique Tea Bags or Green Tea Bags
1/4 c. Young Living Blue Agave
3 drops Young Living Peppermint Vitality Essential Oil (More or less to taste.)
3 Limes
Pour YL Blue Agave in the bottom of a 64-ounce pitcher.
Add hot water and stir.
Add YL Slique tea bags and allow to steep.
Add Peppermint Vitality essential oil.
Quarter limes.
Fill serving glasses with ice and squeeze one lime slice in each glass.
Pour tea over ice and garnish with a sprig of mint and serve.
From Young Living's blog:
Young Living Therapeutic Grade™ (YLTG) Peppermint Vitality essential oil comes from the most potent plants around the globe and is tested to ensure proper levels of menthol and menthone are in every bottle.
But there's more to YLTG peppermint than just finding the best plants. The secret is in expert harvesting practices. Peppermint is harvested when the field's overall appearance goes from light to dark green. The growers make sure the plant has just started to bloom before the peppermint is cut, and then water is carefully measured prior to distillation to ensure the most potent constituents are steam-extracted.
Read more at:  https://www.youngliving.com/blog/peppermint-iced-tea
Photo Credit:  Triathlonmagazine.com
You can find more delicious ice tea recipes at http://triathlonmagazine.ca/nutrition/healthy-homemade-iced-tea-recipes-to-try  When the recipes call for fresh herbs or flavored tea bags, substitute 1 or more drops of Young Living's Vitality oils to add delicious flavor and therapeutic benefits to your cup of tea!!!
"These statements have not been evaluated by the Food and Drug Administration. This product is not intended to diagnose, treat, cure or prevent any disease."