Starter Kit Recipe: Thieves Immune Support 
Thieves essential oil supports your immune system, supports healthy lung function, and is excellent for oral hygiene!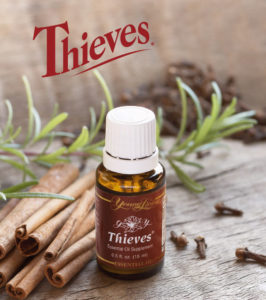 Immune System Support: Roller Bottle
Add 10 Drops Thieves Essential Oil to a 10ml roll-on bottle.

Fill with fractionated (liquid) coconut oil, or your favorite carrier oil.

Apply to your spine and / or the Vita-Flex points on the bottoms of your feet 1 – 3 times each day.

When you need additional immune support, add 5 drops of Oregano and / or Thyme essential oil to the roller bottle.
Immune System Support: Hot Tea
Add 1 drop of Thieves Vitality Oil + 1 teaspoon of honey in a cup of hot tea.  

Sip slowly to soothe an irritated throat and to boost your immune system.
Immune System Support:  Diffuse
Add 3 drops of Thieves to your diffuser.  (Add more drops as needed.)

Fill with water.

Start slowly. You don't want it to be overpowering.  If you need a stronger ratio, turn the diffuser off and add one drop at a time until you find the minimum number of drops that you need to find the scent level that is preferable and that gives you the therapeutic benefits you seek.

Diffuser for 30 minutes several times each day to boost your immune system.
"These statements have not been evaluated by the Food and Drug Administration. This product is not intended to diagnose, treat, cure or prevent any disease."
Joyce Fisher, Young Living Silver Leader, Independent Distributor #1934177
For more information on the oils included in the Premium Starter Kit, visit https://distillery9.com then click on "Let's Do This"