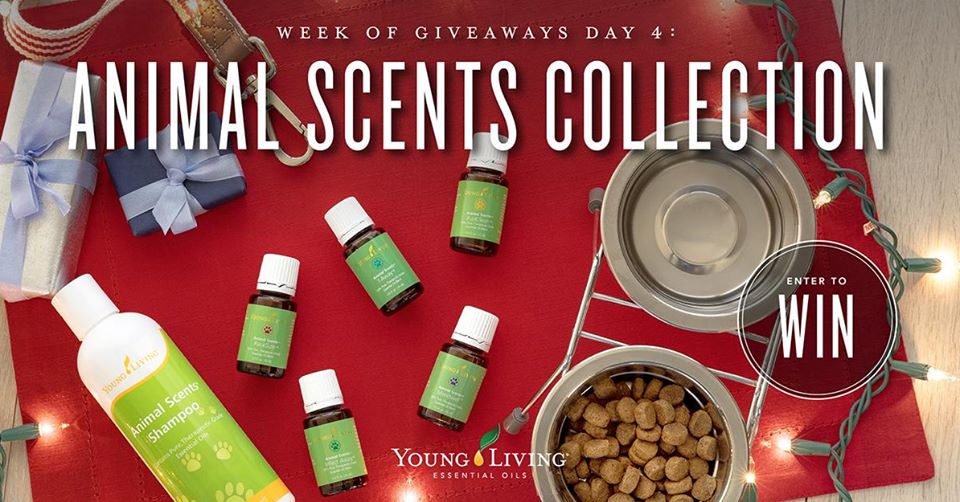 ENTER TODAY to WIN the Animal Scents Collection!!!
Get your furry friends ready for Santa with the Animal Scents Care Kit. Featuring a bottle of Animal Scents Shampoo, this giveaway will put your pet in the lap of luxury this holiday season with an abundance of essential oil blends.
This impressive collection includes six of our blends specially formulated for animals: PuriClean™, Infect Away™, Mendwell™, ParaGize™, RepelAroma™, and T-Away™.
WIN this kit and set your four-legged family members up for a new year of adventure!!!
ENTER TO WIN at: https://www.youngliving.com/blog/a_week_of_giveaways/?utm_source=oso&utm_medium=fb&utm_campaign=wynggiveawayaria&utm_content=120417
CLICK on the Day Four – Animal Scents graphic to open the Entry Form.  Register TODAY, (December 7th, 2017), by 11:59 p.m., MT to win the Animal Scents Collection.
Retail: $20.72 USD Animal Scents Shampoo
Retail: $31.25 USD PuriClean™
Retail: $32.89 USD Infect Away™
Retail: $23.36 USD Mendwell™
Retail: $14.14 USD ParaGize™
Retail: $16.78 USD RepelAroma™
Retail: $21.38 USD T-Away™
Joyce Fisher, Young Living Silver Leader
Independent Member #1934177