Spring Cleaning…..where do I even begin????
This meme from someecards.com says it all.  Hahaha!!!
Seriously though, I have always hated cleaning any time of the year because of (1) the nauseating smell of the toxic fumes from cleaning products; (2) the horrible headaches and respiratory issues I would get from inhaling said toxic fumes; (3) the way cleaning products would cause my skin to be itchy and raw with severe eczema; and (4) worrying about the long-term health issues of being exposed to products that contain known toxins and carcinogens…..then worrying even more about the unknown dangers because thousands of chemicals commonly used in cleaning products have never been tested on humans!!!!
That last point is the most important.  It was very unsettling to learn that most of the cleaning products I had used all my life…..including Simple Green, Citra-Solv, Spic and Span, Scrubbing Bubbles, Mop & Glo, Easy-Off, and so many more…..were on the EWG's Hall of Shame list.
That's why I'm so grateful to have discovered Thieves Household Cleaner!!!  (1) It's sweet & spicy scent smells AMAZING!!!!  (2)  Instead of causing me headaches and respiratory issues, the scent actually lifts my spirits!!!  (3) I don't have to wear rubber gloves when I use it because not only does it NOT irritate my skin, but the essential oils used in the cleaner actually have therapeutic benefits!!!  and (4) It's all-natural without any of the toxic chemicals that commercial products contain which caused so many health issues for me and my family!!!
Thieves Household Cleaner gets it's power from Young Living's Thieves essential oil blend, so you can deep clean without dangerous toxic chemicals or synthetic ingredients. Thieves cleaner also contains Lemon essential oil, which gives it an uplifting aroma, using this product actually improves my mood when I'm cleaning!!!
I use this all-purpose cleaner for mirrors & windows, dusting, tile & wood floors, the kitchen sink & counters, dishwasher, stove & refrigerator, bathroom sinks, tubs & showers, spot cleaning, laundry, scrubbing, and every other cleaning need.
I feel good knowing it's safe to use around everyone in our family, including our furry friends.   If you have a toddler, you'll be happy knowing they aren't crawling around on a floor that has a residue of toxic chemicals from when you mopped earlier in the day!!!!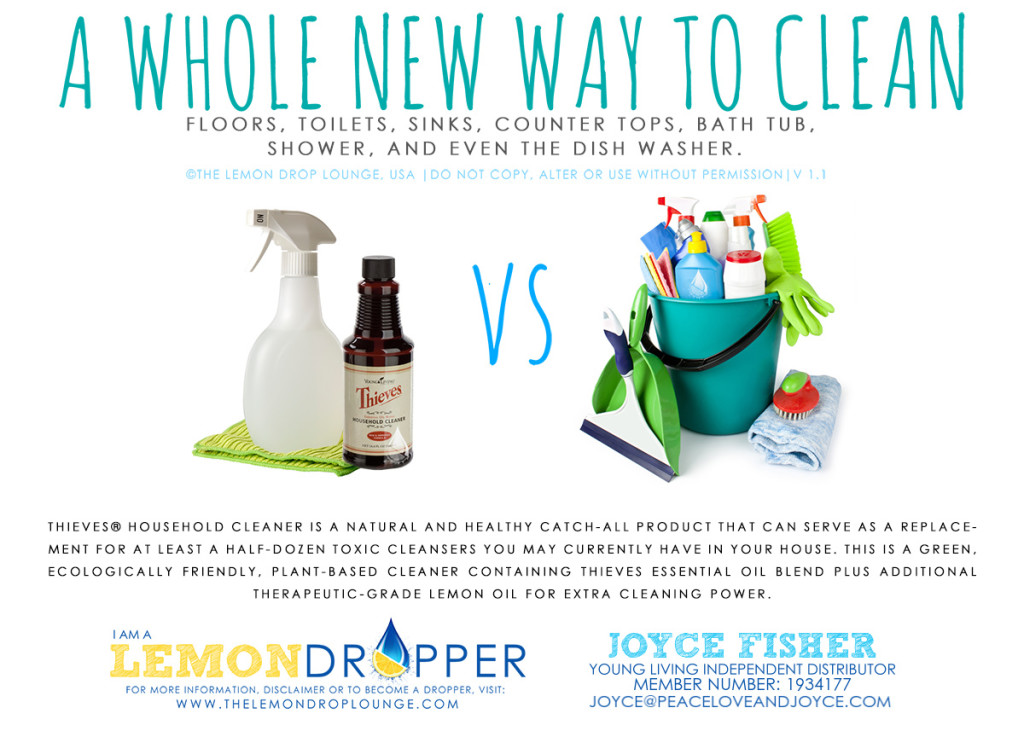 Thieves Household Cleaner Ingredients:  Water, Alkyl Polyglucoside (environmentally friendly surfactant), Sodium Methyl 2-Sulfolaurate (environmentally friendly surfactant), Disodium 2-Sulfolaurate (environmentally friendly surfactant), Thieves [Eugenia Caryophyllus† (Clove) Bud Oil, Citrus Limon† (Lemon) Peel Oil, Cinnamomum Verum† (Cinnamon) Bark Oil, Eucalyptus Radiata† Leaf Oil, and Rosmarinus Officinalis† (Rosemary) Leaf Oil], Tetrasodium Glutamate Diacetate (Chelating Agent), and Citrus Limon† (Lemon) Peel Oil.  The surfactants and chelating agent are not on any lists of toxic chemicals which cause suspected or recognized health effects.  They have not been detected in human tissue or urine.

Young Living strives to help you live better by promoting wellness and creating a healthy environment for living!!!!  Having the best for you and your family starts with using healthy, natural, and non-toxic products.  From the cleaning products you use, to your toothpaste, shampoo & conditioner, your home is the place where total wellness begins!!!
Contact me for "50 Ways to Use Thieves Household Cleaner".
Peace, Love and Joy,
Joyce