I've been busy, busy, busy using my Silhouette Cameo and Stampin' Up! supplies to make  things for my little sister's 50th birthday party!!! ( I don't know how I'm old enough to have a little sister that is 50!!! Haha!)
My sister Barb is always positive and upbeat, so I chose "Life is Good" for the theme. I made wine bottle tags for the tables. (Supply list and directions at end of post.)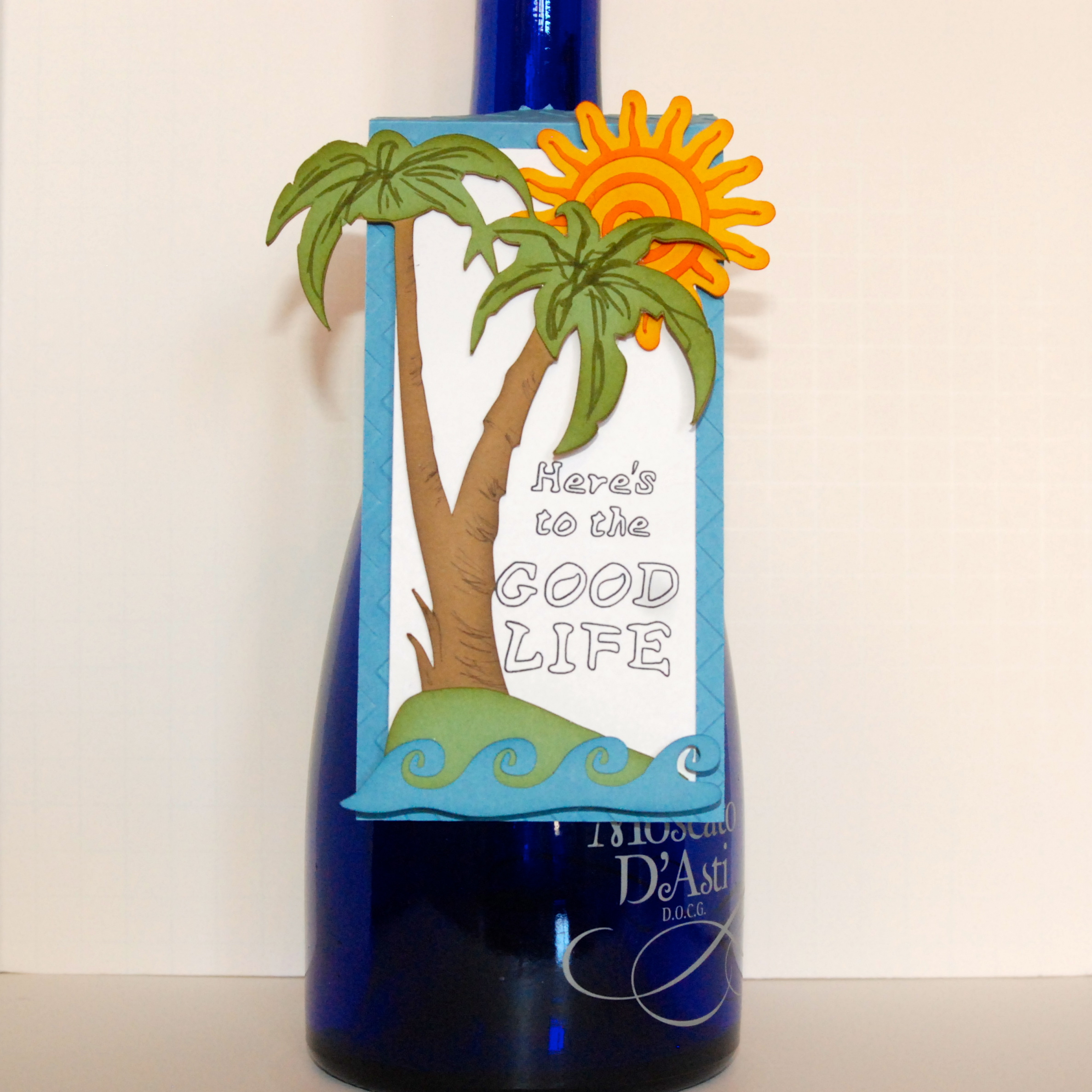 Life is good when enjoying a nice bottle of wine with friends and family!  And just like a fine bottle of wine, Barb's not getting older, she's getting better!
I wanted to make wine glasses for the party guests, but I was never quite able to master etching glass.  After four "craft fails" I finally gave up the idea of making glasses for thirty guests! I think part of my problem was attempting too large a design and so I was unable to get the stencil to wrap smoothly around the glass and ended up with wrinkles that allowed the etching cream to leak into areas that I didn't want etched.
If you've mastered etching glass, I would welcome any helpful tips!
Peace, Love and Joy,
Joyce
SVG FILES – SILHOUETTE ONLINE STORE
Silhouette Portrait or Cameo electronic cutting machine.
ALL SUPPLIES ARE FROM STAMPIN' UP!
Marina Mist (Item #119682)

8.5" x 3" / Score at 2.5" for hang tag.

Emboss with Chevron embossing folder. (Item #127749)

3.5″ x 1.5″ for waves

Whisper White (Item #100730)

5.25" x 2.5", 2 pieces
One for sentiment on front, one for back to write a personal message.

Crushed Curry (Item #131199)

3.5″ Square (Background for sun.)

Pumpkin Pie (Item #105117)

3.5″ Square (Swirls on sun.)

Wild Wasabi (Item #108641)

5″ Square for palm trees & island.

Baked Brown Sugar (Item #131296)

 6.5″ x 4.5″ for palm trees.
ADDITIONAL ITEMS
Stampin' Paper Trimmer (Item #126889)
Simply Scored Scoring Tool (Item #122334)
1.25" Scallop Circle Punch (Item #127811), punch circle in top section of tag.
Paper Snips (Item #103579), use snips to make slits on 4 sides of circle to allow it to expand to fit over neck of wine bottle.
Stampin' Sponges (Item #101610)

Sponge edge of sun with Pumpkin Pie ink. (Item #126945)
Sponge edge of palm leaves and island with Old Olive ink. (Item #126953)
Sketch detail in palm leaves with Old Olive marker (Item #100079)
Sponge edge of palm tree trunks with Crumb Cake ink. (Item #126975)
Sketch detail on palm tree trunks with Crumb Cake marker. (Item #120967)
Sponge edge of waves with Marina Mist ink. (Item #126962)

Stampin' Dimensionals (Item #104430)
Snail Adhesive (Item #104332)