I'M SO EXCITED!!! I fell in love with Silhouette projects I had seen on Pinterest & various Stampin' Up! demonstrator's blogs, so I asked Santa, (my very generous husband), to bring me a Silhouette Cameo.
I didn't get to unpack it until this evening. Once I installed the software I did a quick Google search for tutorials. I found "The Mother Lode" of tutorials at "The Thinking Closet" and based my very first project on Lauren's "Thousand Thanks" card tutorial.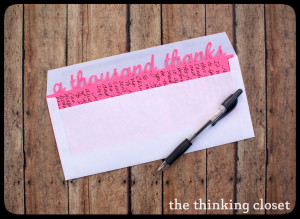 Lauren's tutorial was great. It was very easy to understand, which I really appreciated since I had never actually seen an electronic cutting machine before and didn't have a clue how to use the machine or the software.
I used the same font that Lauren used, changing "a thousand thanks" to my favorite sentiment, "Peace, Love and Joy".  I had a few issues with not "welding" the letters together perfectly in a couple spots, and my cutting mat is way too sticky so I tore the paper a little trying to remove my notecard, BUT I am totally excited with the results!!!
Here's my very first electronic cutting machine project…a "Peace, Love and Joy" notecard sized to fit in a standard business size envelope…it's not perfect, but I can't believe I did something so cool on my very first attempt at using my new Silhouette Cameo!!!
Now my only problem is that it's already 1:54 a.m. and I want to play some more…but I really need to get some sleep…but I'm too excited to sleep and can hardly wait to try Lauren's other tutorials!!!
Peace, Love and Joy,
Joyce
YOUR COMMENTS MAKE ME SOOOOOOOO HAPPY!!!