Today was National Lipstick Day! Did you rush out to get your free MAC lipstick or BOGO at other makeup counters?
I'm sorry, but I feel I need to share some scary truth with you.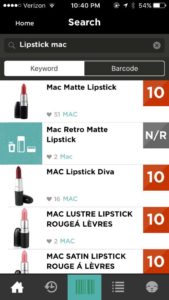 Did you know that you're putting toxic chemicals on your lips every day? Which means these toxic chemicals are surging through your body!!!
On the 1 – 10 scale of TOXICITY:
10 – L'Oreal Colour Rich
10 – MAC Lipstick
  9 – Rimmel Lasting Finish
  9 Maybelline Color Sensational
  9 – CoverGirl Lip Perfection
  9 – Revlon Colorstay
  7 – 10 – Estee Lauder Pure Color
Girlfriend, you need to scan your makeup with the FREE Think Dirty app, but when you see the numbers, don't despair, because there IS a better option!!!
Check out the awesome Savvy Minerals lipsticks & lip colors from Young Living. Made with naturally derived ingredients, including moisturizing botanicals, this lipstick is not tested on animals, so you can feel good about what you are putting on your lips.
Formulated without parabens, phthalates, petrochemicals, bismuth, talc, synthetic fragrances, or synthetic colorants!
All New Products at Young Living
Lip Gloss – Savvy Minerals by Young Living
LipStick – Savvy Minerals by Young Living
Pure. Non-toxic. No dyes. You can feel good about what you're putting on your lips and not have to worry that your lipstick is slowly poisoning you.
Order your Premium Starter Kit before 11:59 p.m. July 31st and I'll cover the cost of the lipstick of your choice.   Use Enroller #1934177 / Sponsor #1934177 to choose Joyce Fisher as your Enroller & Sponsor when you order your Premium Starter Kit, then I'll add a credit to your Young Living account that you can use to order your favorite Savvy Minerals lipstick on your next order!
#nationallipstickday #thinkdirty #thereisabetterway #oilsforthewin #youngliving #savvyminerals #freelipstick