You only have a few more days to GET THREE bottles of Peace & Calming!!!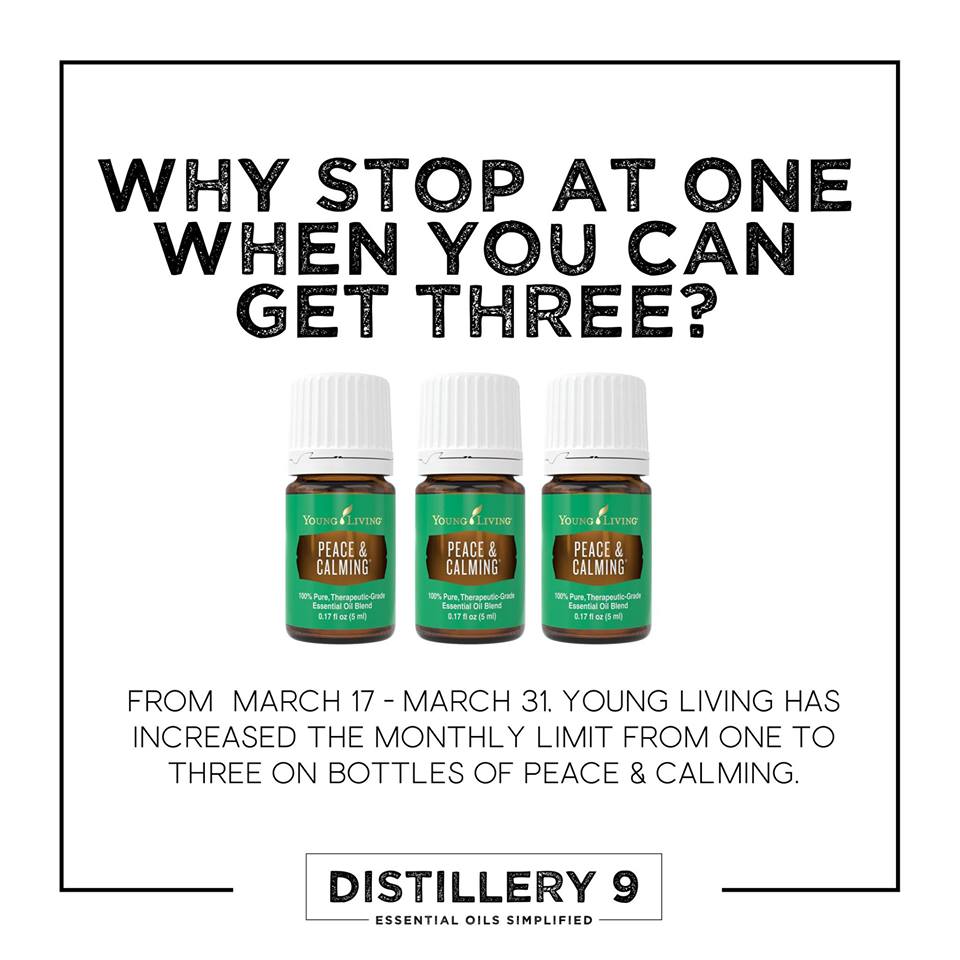 So WHY would you want to order three bottles in March??? You'll want to STOCK UP NOW while Peace & Calming is available, because in the past, once it went out-of-stock it was a long, long, long time before you could order again!!!
As of April 1st, you'll be restricted to one bottle per account per month. Order 3 bottles in March on a Quick Order or on your Essential Rewards order, then you'll be able to order another bottle of P & C in April while supplies last!!!
Peace & Calming® essential oil is a delightfully fragrant blend of Ylang Ylang, Orange, Tangerine, Patchouli, and Blue Tansy that creates a relaxing environment.  P & C is especially great for homes with children. You can use this oil to keep kids from getting too wound up during playtime, to help them calm down when they're on the verge of a temper tantrum, and to help have a more peaceful bedtime routine.
It's also great for yourself during stressful situations and to calm an anxious mind so you can get a good night's rest.
How to Use Peace & Calming Essential Oil
1. Help calm fussy babies and rowdy children. Dilute appropriately with carrier oil and apply a drop to temples, wrists, back of neck or bottoms of feet.
2. Diffuse P & C in the playroom so kids will get along without fussing and fighting!
3. Add P & C in the diffuser as part of your children's bedtime routine. P & C can help children get a good night's sleep without nightmares!
4. Dilute with carrier oil and wear on wrists or back of neck to help you remain calm during difficult situations at work or at home. (Some people use P & C "neat", but I've found it works just as great when diluted with carrier oil. This means your oil lasts longer so you save money! Plus you reduce any risk of developing skin sensitivity!)
5. Add a couple drops of Peace & Calming to your diffuser jewelry to help you stay calm when dealing with stressful situations at work.
6. Diffuse in your living room, family room and bedroom for a peaceful home.
7. Add a few drops to Epsom salts in a tub of warm water for a soothing foot soak after a hard day.
8. Add a few drops to Epsom salts in your bath water and soak for 20 minutes to de-stress.
9. Place a drop on pillowcase for natural sleep aid.
10. Dilute with carrier oil for a relaxing massage oil. Massage neck, back, or Vita-Flex points on your feet for relaxation.
11. Place two drops on a cotton ball and drop into vacuum filter for a fresh, lovely scent when vacuuming.