Say "Goodbye" to musty winter smells and "Hello" to soft, spring fresh-smelling laundry!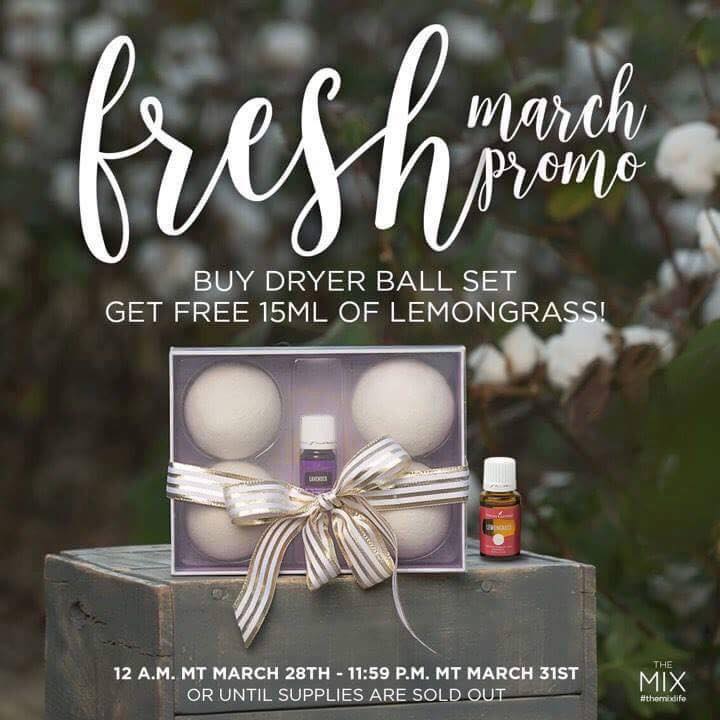 END OF THE MONTH DEAL from Young Living!!!!!
This springtime promotion is just what you need to make your clothes smell fresh and clean, without harsh perfumes or toxic chemicals!!!
March 28th–31st at 11:59 p.m. MT, while supplies last*, members who order our Limited-Edition Dryer Balls with 5ml Lavender essential oil will get a FREE 15-ml bottle of Lemongrass essential oil!!!!!
No limits!! That means if you buy 5 sets of dryer balls, you'll get 5 FREE 15 ml bottles of Lemongrass!!!  Now is a great time to stock up on gift sets!!!!
IMPORTANT TO NOTE!! New members enrolling now through March 31st may add this to their enrollment order. You'll just need to know the SKU: 19456
What a great gift to get started with Young Living essential oils, right???
Here's a link to a quick 1 minute video I found that helps to explain how TOXIC dryer sheets are:
https://www.facebook.com/healthforallwomen/videos/581323258739833/?hc_location=ufi
Item #: 19456
Price: $23.50 Wholesale Members / $30.92 Retail Customers
This promotion available on Quick Orders only while supplies last. 
Want to become a Young Living Member?  Click on "Join Team PLJ Oilers Club" in the right column > Choose Your Membership: Member or Retail Customer
You'll want to choose "Member" so you can order the Premium Starter Kit, which qualifies you to get wholesale prices on all orders!!!  Make sure #1934177 is in both the "My Sponsor ID" and "Enroller ID" boxes.  Then choose your Premium Starter Kit and add Item #19456 to your order so you can get the special offer!!!      
If you do NOT want to order a Premium Starter Kit, then choose "Retail Customer", fill out the information and place your order!