This fun "fairy tale" workshop is targeted for Children & Parents, or Grandchildren & Grandparents!  (*Children ages 3 months to 12 years old.)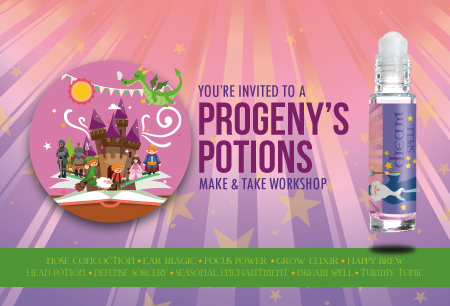 Your child & you are invited to come learn how to use essential oils for a calmer, happier, healthier childhood!!!  "Progeny's Potions" supports a wide variety of children's physical and emotional health issues. 
The PROGENY'S POTIONS class will be at 1:00 p.m. on Saturday, April 8th at the Merle Norman Studio in downtown Herrin, Illinois.
Be sure to let us know if you'd like an invitation!!!
We will share about the benefits of each of the essential oils used in the recipes from the "Progeny's Potions" collection. You will choose three recipes that would benefit your child to Make & Take home with you!
"Essential Enchantments: Concoctions for Your Kids"
With recipes developed by a Certified Aromatherapist, you can provide safe rollerball blends designed with specific recipes adapted for:
3-24 months at a 0.5% dilution ratio.

2-6 years at a 1% dilution ratio.

6-12 years at a 2% dilution ratio.

Recipes listed all fall within the safe 0.5 – 2% dilution ratios as recommended by top Certified Aromatherapists throughout the world.
Make & Take Recipe Blends
Nose Concoction – Helps maintain clear airways while minimizing the effects of seasonal threats.

Focus Power – Helps with focus, maintaining energy and mental alertness.

Ear Magic – Helps ease ear discomfort.

Tummy Tonic – Helps reduce occasional nausea and promotes healthy digestion.

Dream Spell – Promotes restful sleep and peaceful dreams.

Happy Brew – Positively affects mood with energizing and refreshing properties.

Grow Elixir – Helps with mild discomfort associated with growth.

Head Potion – Helps minimize head tension and discomfort.

Seasonal Enchantment – Protects against seasonal and environmental elements.

Defense Sorcery – Promotes a healthy immune system and supports the body's natural antioxidant defenses.

BONUS: Tooth Tonic – Assists with occasional tooth discomfort.
BONUS: Skin Elixir – Helps distressed skin recover.
The Workshop Fee of $25 includes 3 roller bottles for one Child. If more than one child attending, you may make additional recipes for $10 per roller bottle or 3  for $25.  Example:  1 Parent + 2 Children x 3 Recipes for Each Child = 6 Roller bottles for a total of $50.   
Essential oils, carrier oils, bottles, roller balls, lids, recipes, labels, mini-funnels and other tools and supplies will be provided.
Please RSVP by April 1st to Cheryl Lambert at Merle Norman Studio. (Work: 618-988-1783)  Seating is limited to 10 families. Payment of your $25 Make & Take fee reserves your seat!
SAFETY FIRST:

Parent/Grandparent/Adult Guardian MUST be present.

Children are NOT allowed to make the roller-bottles without the direct hands-on assistance of the Parent/Grandparent/Adult Guardian.
Photo Credit: Photo used with permission from EO Tools.
The "Progeny's Potions" DIY Kit is a smaller, more "personal size" kit targeted for the Do-It-Yourselfer and ideal for those wanting to make blends for their own use. You can purchase the DIY Kit at: https://eo.tools/collections/progenys-potions-diy