🌈 Valor, affectionately known as the "Unicorn oil", is back in stock after almost two years!!!!!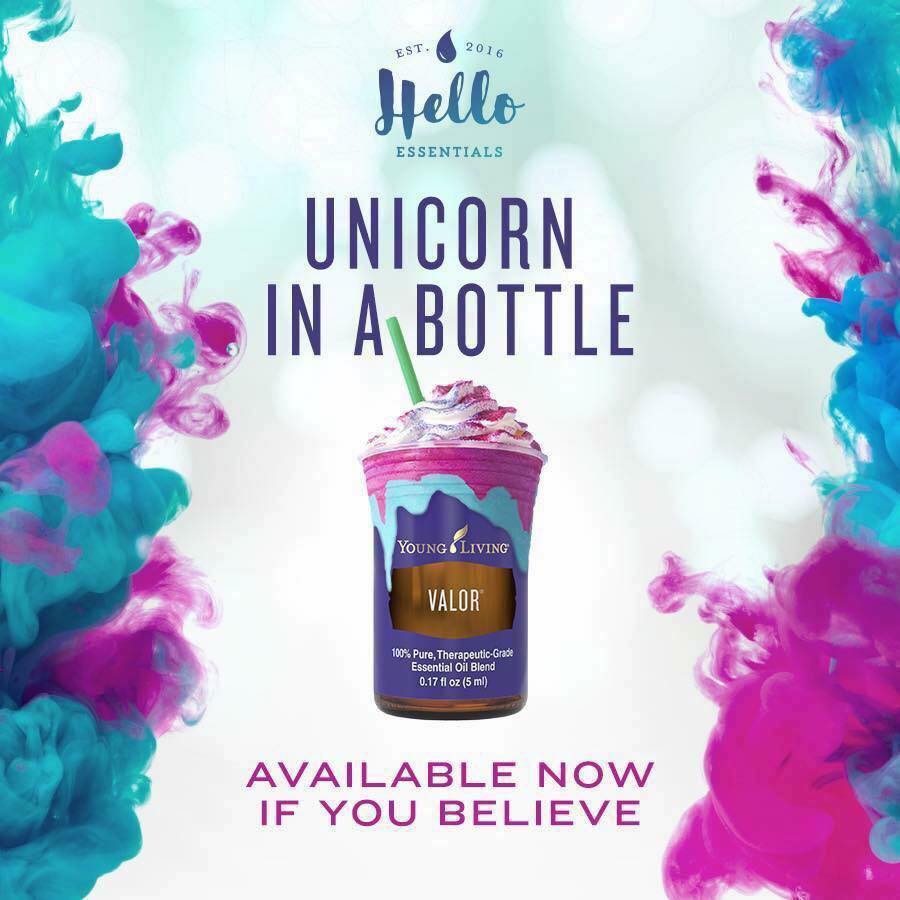 🦄 Sanity
🦄 Patience
🦄 Focus
🦄 Courage
🦄 Confidence
🦄 Chiropractor in a bottle right here!
I love, love, LOVE the Valor essential oil blend!!! It helps me feel confident and secure. Plus it helps me so much physically. (There's a reason it's affectionately called "chiropractor in a bottle"
This fabulous oil is limited to one bottle per member per month while supplies last.  If you've been thinking about taking the plunge, I'll help you get signed up as a Young Living member, then you can add Valor to your Premium Starter Kit order!!!
You can contact me to become a member, or if you're like my 3 year old Granddaughter, who always says, "I can do it myself.", then you can sign up here:  https://youngliving.com/vo/#/signup/start?site=US&sponsorid=1934177&enrollerid=1934177
Want more info on this amazing blend?? Read below:
**********************************************************
Valor® essential oil blend is one of our most popular products and a favorite of Founder and Chairman of the Board D. Gary Young. A truly unique blend of Black Spruce, Blue Tansy, Camphor Wood, Geranium, and Frankincense, Valor has a woodsy, grounding aroma that is great for massages and other topical and aromatic uses. Use it to greet each morning with a positive attitude or to refocus at the end of a challenging day.
KEY INGREDIENTS
Black Spruce, Camphor Wood, Geranium, Blue Tansy, and Frankincense essential oils
EXPERIENCE
Use Valor's invigorating aroma in the morning for an uplifting and empowering scent to approach the day. Its vivacious scent is a favorite companion to an intrepid spirit.
PRODUCT BACKGROUND
Valor is one of the original blends formulated by D. Gary Young and is a long-standing member favorite. Each essential oil in the blend was carefully selected for its unique aromatic and topical benefits:
-Frankincense for its uplifting, earthy aroma and skin-smoothing properties
-Black Spruce for its grounded, woodsy fragrance
-Blue Tansy for its inspiring aromatic profile
-Geranium for its sweet, floral fragrance
-Camphor Wood for its skin-benefiting properties and strong, herbaceous scent.
This powerful, synergistic blend with a transformative aroma has contributed to its strong legacy as a key part of Young Living's proprietary Raindrop Technique®.
BENEFITS AND FEATURES
• Features a spicy, sweet, positive aroma that inspires confidence and courage
• Helps freshen the air when diffused and improves the appearance of skin when applied topically
• Creates a grounded environment for yoga
and meditation
• Enhances massage for a rejuvenating experience
DIRECTIONS
-Topical: Apply 2–4 drops directly to desired area. Dilution not required except for on the most sensitive skin. Use as needed.
-Aromatic: Diffuse up to 1 hour 3 times daily.
SUGGESTED USE
• Diffuse in the morning to jump-start a busy day with an uplifting, affirming scent.
• Combine with V-6™ Vegetable Oil Complex to unwind before bed with a grounding neck or back massage.
• Refresh throughout the day by directly inhaling or massaging onto your neck, chest, or hands and wrists.
• Wear as a bold, inspiring cologne or use as a top note for personalized scents.
• Add to Young Living's Bath & Shower Gel Base or to a hot bath to invigorate your bath and shower routine.