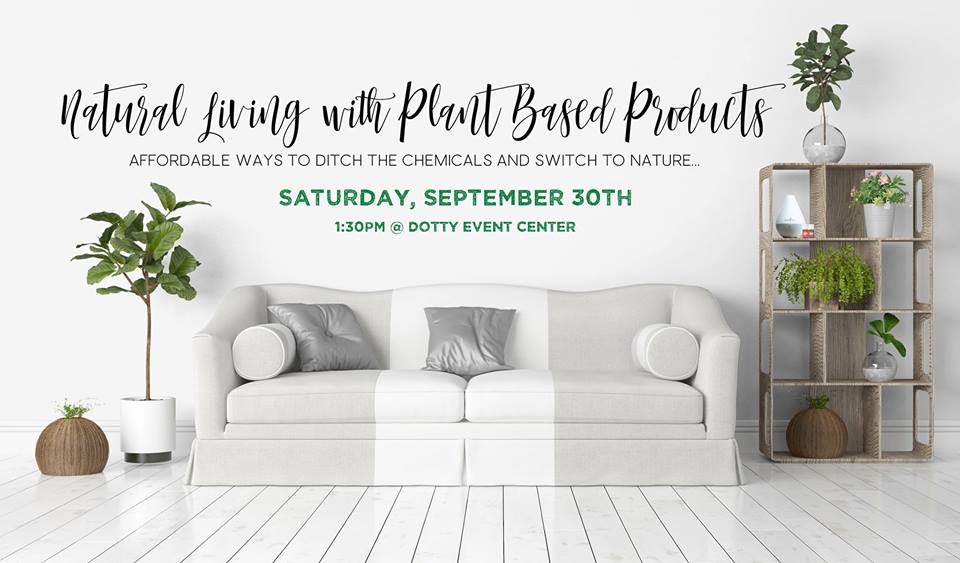 Some of the most dangerous things that affect our health are toxic chemicals we unwittingly expose ourselves & our children to on a daily basis! Oftentimes, these chemicals are the culprits behind sickness, diminished immunity, emotional imbalance, chronic illness and MORE!!!
If you want to learn how to DITCH toxic chemical and SWITCH to safe all-natural plant-based alternatives in your home, then I'd love to invite you to our "Natural Living" class!!!
You're welcome to invite your family, friends and coworkers!!
Saturday, September 30th at 1:30 PM – 3:30 PM
Dotty Event Center, 210 North Park Ave Herrin, IL. (Between "The Annex" and the Baldwin Piano studio.)
Join us for this in-person class and learn how you can DITCH the chemicals in your home and make small changes to SWITCH to natural, plant-based products from Young Living!
Our class will cover a wide variety of products including:
+ Essential Oils
+ Household Products
+ Vitamins & Supplements
+ Animal Care
+ Personal Body Products
+ Baby Care
+ Skin Care & Makeup
TIckets are $5 at the door and will include a FREE sample of Young Living's amazing Thieves Household Cleaner, a plant-based, non-toxic cleaner that is safe to use on ALL surfaces in your home.
You're welcome to invite your friends that are interested in learning too!  To ensure we have enough samples on hand, please RSVP today to joyce@peaceloveandjoyce.com!
We hope to see you in class!!