I'm so excited. A group of my fellow "craftaholics" have joined with me to give away a Silhouette Portrait electronic cutting machine!
Haven't you heard of this amazing machine???  Well, let me tell you, it is MAGICAL!!! 
I heard about electronic cutting machines from other crafters. After researching them for quite awhile, I knew that I really, really wanted one.  I was sooooooo happy when Santa, a/k/a my really generous husband Johnny, gave me one for Christmas! My Silhouette e-cutter has opened up a whole new world of  creative possibilities! Check out my first Silhouette projects. 
I'd LOVE to be your Santa and give you this marvelous Silhouette Portrait if your name is drawn at the end of the giveaway. You can use it to take your crafting to the next level, or play Santa yourself and give it to the crafter in your life!
Scroll down to the Rafflecopter entry form to enter for your chance to win!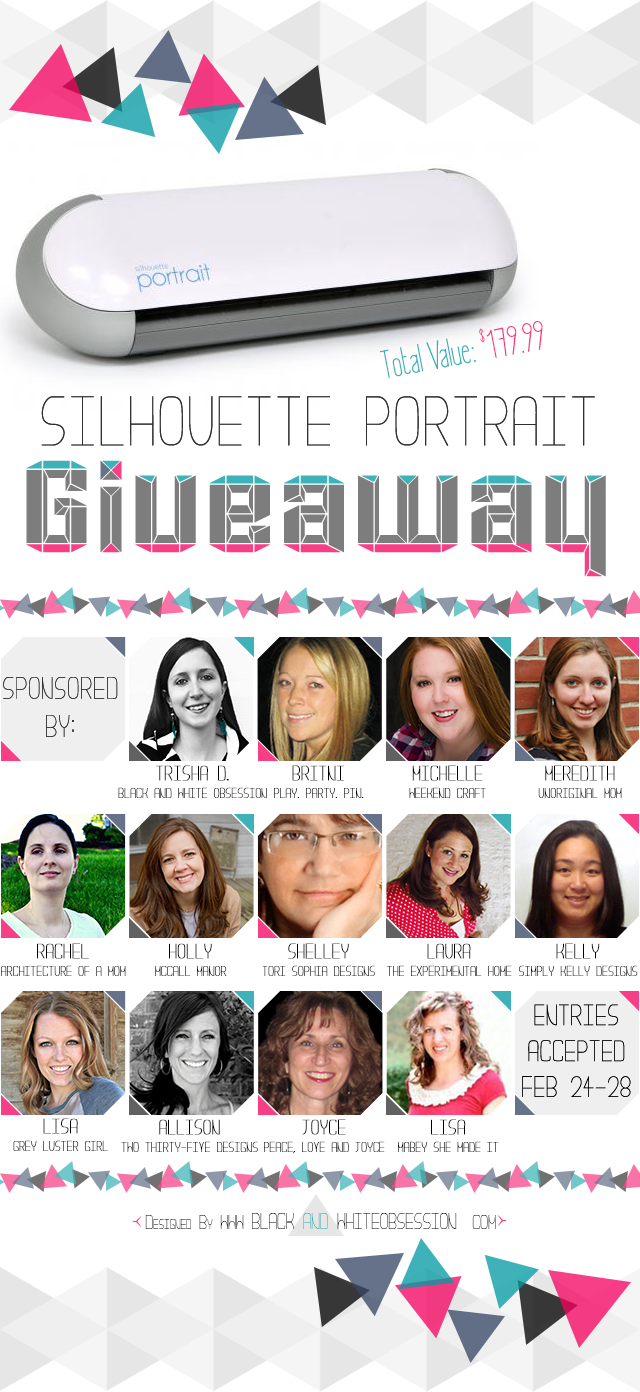 Your entries will be accepted 8 a.m. EST on February 24th thru 11:59 p.m. EST on February 28, 2014.
The prize will be a Silhouette Portrait electronic cutting machine with an approximate retail value of $179.99.
One winner will be chosen and announced through Rafflecopter and notified by email no later than March 3rd. The winner will have 24 hours to respond before another winner is chosen. This giveaway is open to continental US residents only.
You can earn multiple entries here on my page.
Tweet daily to earn extra entries!!! AWESOME!!!
You will also want to visit my friends' blogs and earn additional entries on their sites too!  The more people you follow, the better chance you have to win.
Good luck my dear friends!
Use the Rafflecopter entry form below to enter for your chance to win! 
(Be patient, sometimes it takes the form extra time to load properly.)

The Silhouette electronic cutting machine will open up a whole new world of creativity for you! Check out the projects that I've made with my new Silhouette!
Need more reasons to ENTER TO WIN the Silhouette Portrait?  Here are some ideas of what you could do with your own e-cutter:
Make really cool art to hang on your walls!

Take scrapbook pages to the next level!  

Make custom stamps for hand made cards!

Make projects for your day care center or class room!

Try glass etching!

Make rhinestone designs to add bling to everything!

Make custom t-shirts, mugs & more!

Make custom labels to organize your kitchen, laundry room, bathroom, office & more!

Make home decor for the holidays, family gatherings, parties & more!

Discover a whole new world of craft possibilities!!!!
Leave a comment below saying why you would LOVE to own a Silhouette Portrait. I'm hoping that one of my crafting friends is the winner!!!  Good luck, and as always, I'm wishing you…
Peace, Love and Joy,
Joyce
Here are the links to our Silhouette Challenge Group blogs: