The November Paper Pumpkin kit was the ABSOLUTE BEST kit since I've joined Paper Pumpkin back in August!!!  I loved this kit and made one of the cards exactly as featured on the packaging, it's even cuter in real life than in the photo….but of course….I wanted to see what else could be done with the kit's contents so I made several more projects!  My favorite project was the cover for my iPhone! I love to change the design on my iPhone to match the holidays! I've had lots of people ask me where I got my fabulous iPhone case!!! It's so much fun to say, "I made it myself."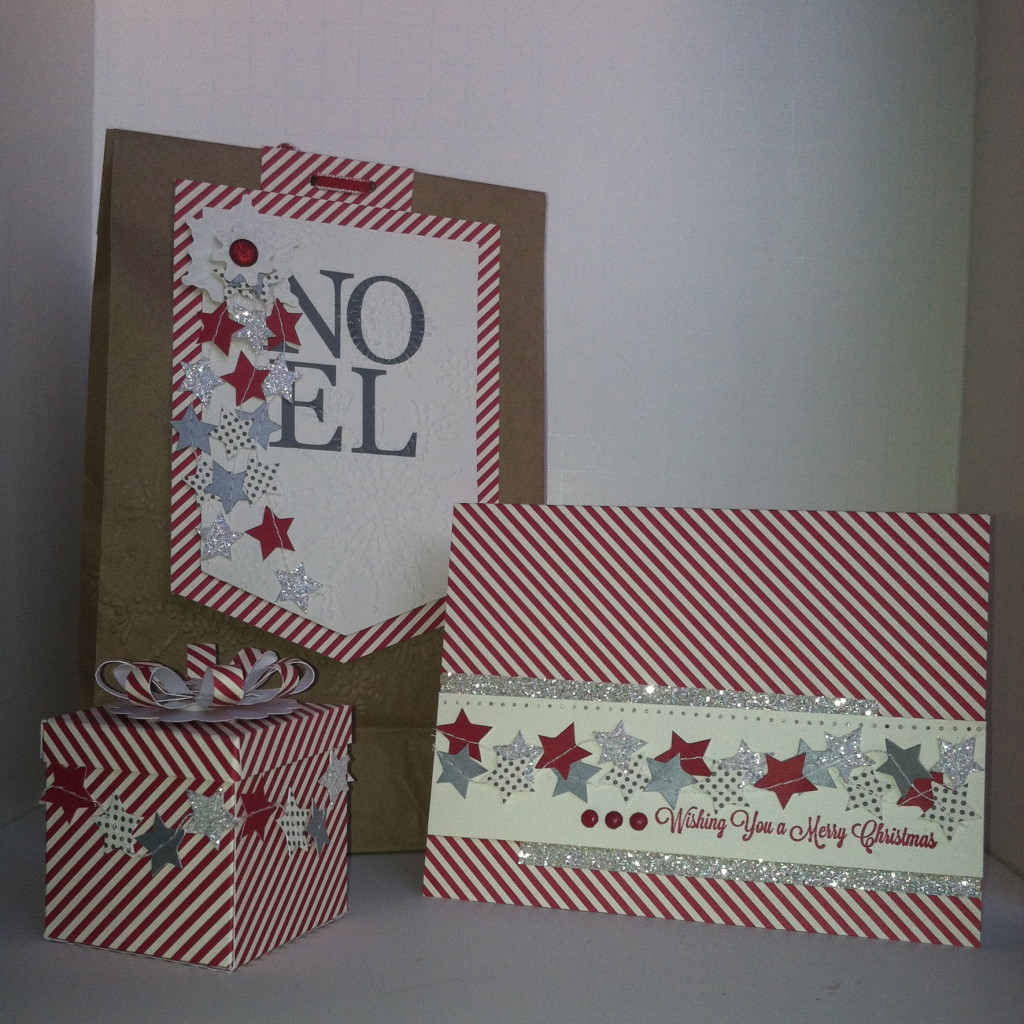 Then I made three more projects! I loved how the gift bag turned out, I've added a close-up photo below so you can see the details. The darling little box was made using a template that I found on Martha Inchley's blog, Inch of Creativity.  The card in this photo was one I saw on Pinterest by Amy O'Neill.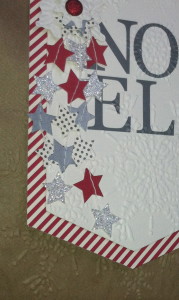 In the close-up photo of the gift bag you can see where I used the Northern Flurry embossing folder from Stampin' Up! to emboss both the brown paper lunch sack and the "Noel" layer. I added a Real Red Glimmer Brad from Stampin' Up! to the top to hang the star garlands from and I used glue dots on the backs of a few stars so they would hang where I wanted them to. I then layered the "Noel" over the card front, using Stampin' Dimensionals to give it more dimension, and used my paper snips to cut the red & white striped card front to match the angle on the "Noel" layer. It made a fabulous looking gift.
This was the label on November's Paper Pumpkin kit. In the kit you had all the supplies you needed to make four cards as shown on the kit.  Have you signed up to get a craft SURPRISE from Paper Pumpkin in the mail each month?  If not, visit my Paper Pumpkin page to get more information!
I hope that Paper Pumpkin from Stampin' Up! and I have inspired you to be creative!
Peace, Love and Joy,
Joyce