My sister asked me to come up with a table top decoration for a party she is in charge of at her daughter's school. Their theme is a turn-of-the-century fair. My first thought was that I wanted to make a carousel.
When you went to the county fair as a child, didn't the carousel seem magical? Even as an adult, I still love carousels!
Last year my parents and I met up with my sister to spend the day in St. Louis. We were celebrating Mom's birthday. We headed to the Sophia M. Sachs Butterfly House at Faust Park, a truly magical place. When we saw that they also had a carousel in the park, we walked over to see it. 
It is a magnificent carousel, built around 1920 with 60 exquisitely hand-carved horses and deer. I fell in love and wanted to ride. Even though I pleaded like a little girl, no one else wanted to ride and I felt a little foolish riding by myself, so I did what little girls do, I kept at it until I could wear them down and they would give in and ride with me! 
I remarked to my Mother that this carousel had originally been at the Forest Park Highlands Amusement Park. I told her how the amusement park was destroyed by fire in 1963, but that the carousel was rescued. Then I explained how the Faust Cultural Heritage Foundation restored the carousel and now it delights carousel lovers of all ages in Faust Park…and that I really, REALLY wanted to ride it, please, please, pretty please!!!
My Mother got all teary-eyed, then told my Dad that they had to ride it with me, for this is the same carousel that they rode while on their honeymoon in St. Louis in 1954!!!
Riding that carousel with my Mom & Dad was one of the most magical days of my life!!!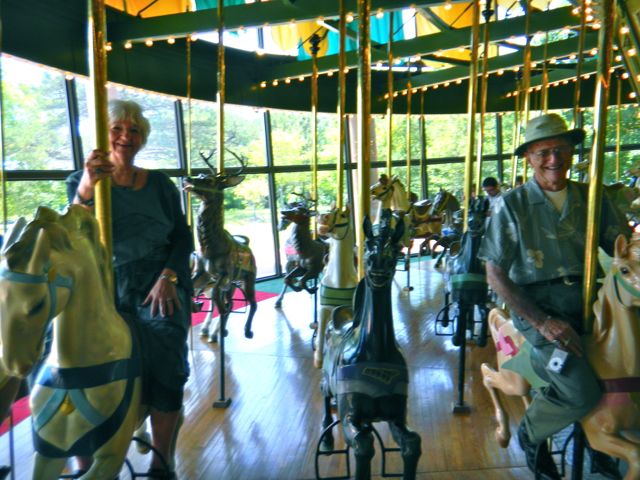 Aren't they just the cutest couple?!?! This September will be their 60th Wedding Anniversary!!!
I hope that you will let the little girl inside of you out to play and that you'll have a magical day!!! Leave a comment below and share what brings out the little girl in your soul.
Peace, Love and Joy,
Joyce
SUPPLY LIST FOR CAROUSEL