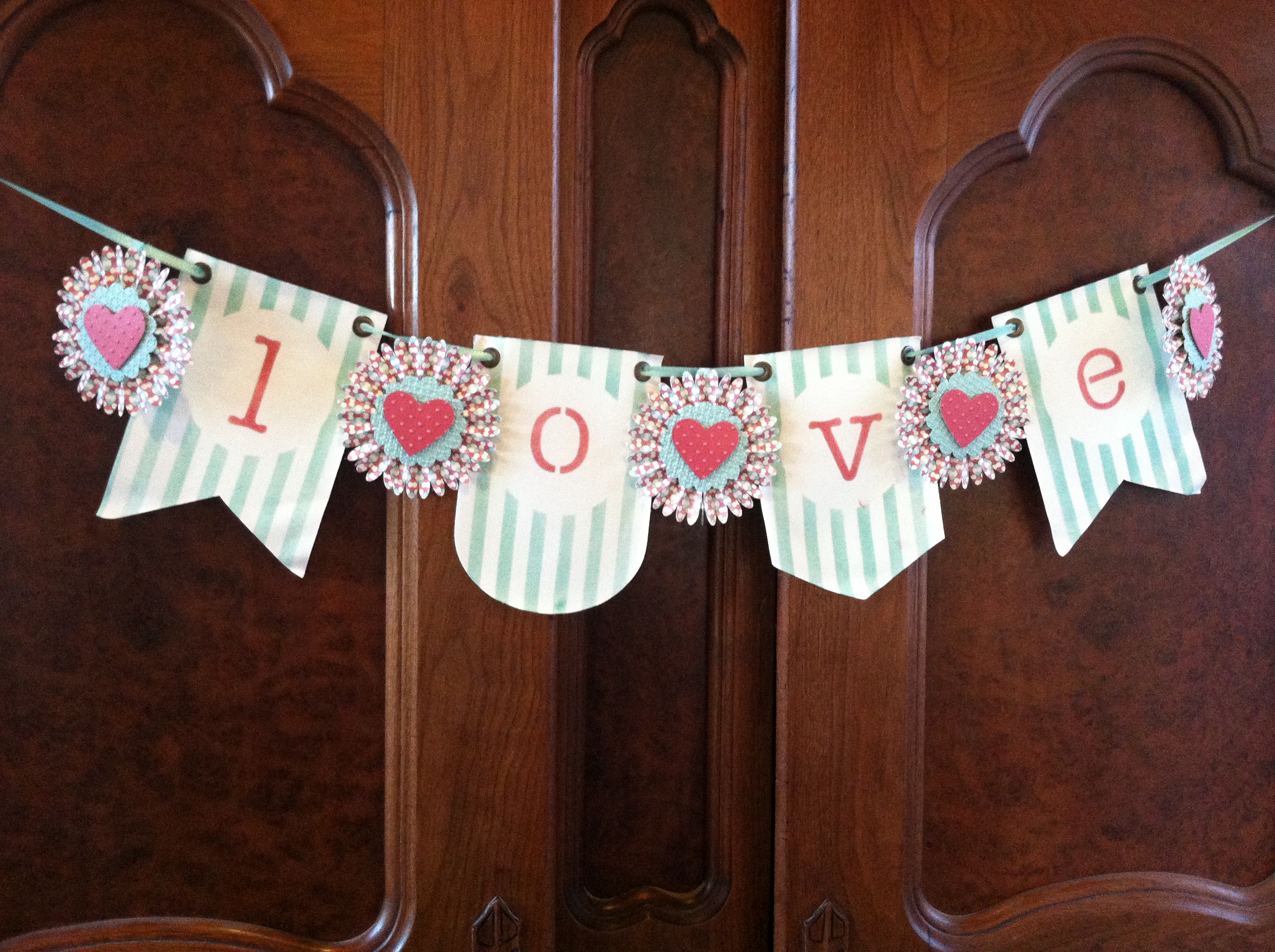 I LOVE making banners!!! I wanted to make one for the "Valentine's Project Round-Up" being hosted by The Silhouette Challenge group on Facebook. (Scroll down for details on how I made the banner.)
The Silhouette Challenge is such a fabulous group to belong to! It currently has 459 members who are established Silhouette owners and designers and also lots of newbies….like me!!! I joined right after I made my first project and I've learned so much already from these wonderfully generous women!
So back to the banner.
So like I said earlier, I love banners!!! When I heard that Stampin' Up! was going to discontinue the "Build a Banner Simply Created Kit", I bought as many packs of the 5″ x 7″ blank canvas paper pennants that I could afford at the time! The quality is sooooo much better than the pennants that I've found in the craft stores. Now I have enough on hand to offer banner classes!
If you would like to make this banner, get a few of your friends together for a class. (Minimum of 4 attendees.) You can host the class in your home or in my craft room. The class is $18 which includes the class fee of $10 and the cost of materials. If you would like to order a finished banner, the cost is $28 plus shipping. Just click on the "Buy Now" button below to order your completed banner!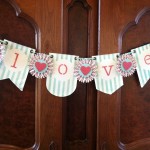 The first step to make the banners is using stencils to make the stripes and letters on the pennants. I used a Stampin' Sponge to apply Pool Party Classic Stampin' Pad Ink for the stripes and Primrose Petals Classic Stampin' Pad Ink for the letters on the banner.
I wanted to have rosettes on the banner, so I got out my Big Shot and a Sizzix rosette die and cut them. At first I was disappointed because they were just too small and I didn't have time to order the Designer Rosette Bigz XL die from Stampin' Up!, which would have made rosettes the perfect size for this project.
Then I realized, I have this fabulous new Silhouette Cameo, (Thank you Santa a/k/a my very generous husband!!!), and the Silhouette online store is open 24/7. Yay!!!
I downloaded the "3d Rosette Flower – Scalloped" (Design ID #21804) by Alaa' K. It was easy to change the cut file to make the rosettes exactly the size I wanted them.
The rosettes were cut out of More Amore Specialty Designer Series Paper from Stampin' Up! When this paper was in the 2012-2013 annual catalog I bought several packages because I loved it so much. You're in luck, I just checked the Stampin' Up! Clearance Rack and you can still order this fabulous paper collection while supplies last. Luckier still, when I purchased the paper it was $12.95, now you can buy it for only $5.19 on the Clearance Rack!
I assembled the rosettes with a hot glue gun. I highly recommend the Silicone Craft Sheet when you're using hot glue. You can glue and assemble embellishments with both hands free! Just drop a dot of adhesive on the silicone sheet, assemble your creation, give it time to dry then pop your embellishment off the sheet. Easy peasy!
Next I used the 2-3/8″ Scallop Circle Punch to punch scalloped circles from Pool Party card stock and embossed them in my Big Shot with the Square Lattice embossing folder. They were attached to the rosette with a dot of hot glue.
The hearts were punched from Primrose Petals card stock with the Full Heart punch. The hearts were embossed with the Perfect Polka Dots embossing folder then adhered to the scallop circle with Stampin' Dimensionals foam dots.
Then I had to dye 3/8″ Whisper White Taffeta Ribbon with Pool Party Classic Stampin' Ink Refill so the ribbon would perfectly match my project.  I added a ribbon loop to the back of each rosette with a dab of hot glue. The final step was to string the rosettes and the pennants onto the length of ribbon.
Don't you just LOVE this banner?!?!?!
STAMPIN' UP! SUPPLY LIST
Thank you so much for visiting Peace, Love and Joyce today! I hope you've been inspired to do something creative! I invite you to leave a comment, comments make me soooo happy!!!
Peace, Love and Joy,
Joyce